Technical Framework of Workflow Engine Platform
Technical Framework of Workflow Engine Platform
Enforce High Collaboration among Application Modules
Weaver workflow engine platform is the backbone of the entire collaboration platform. It builds connection between all the application modules. It enables companies to customize the process applications based on their operating and management model.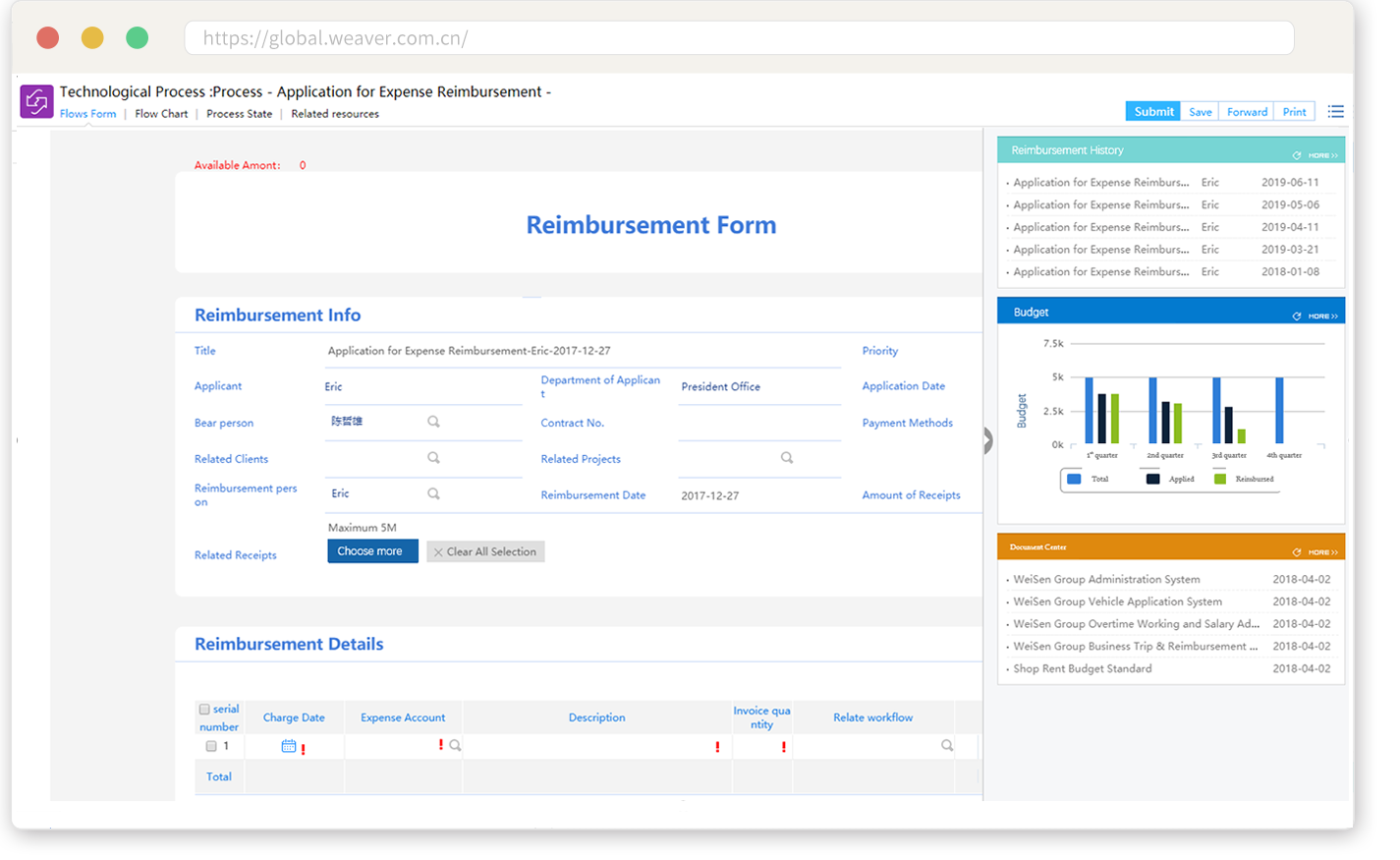 International Standard Workflow Engine Architecture
Weaver workflow engine platform complies with the workflow model and five interface by Workflow Management Coalition (WfMC). It is featured with service oriented architecture (SOA). And it incorporates best practices and experiences of 20000 corporate clients. This architecture helps clients quickly build workflows in line with their business rules to enforce standardized management.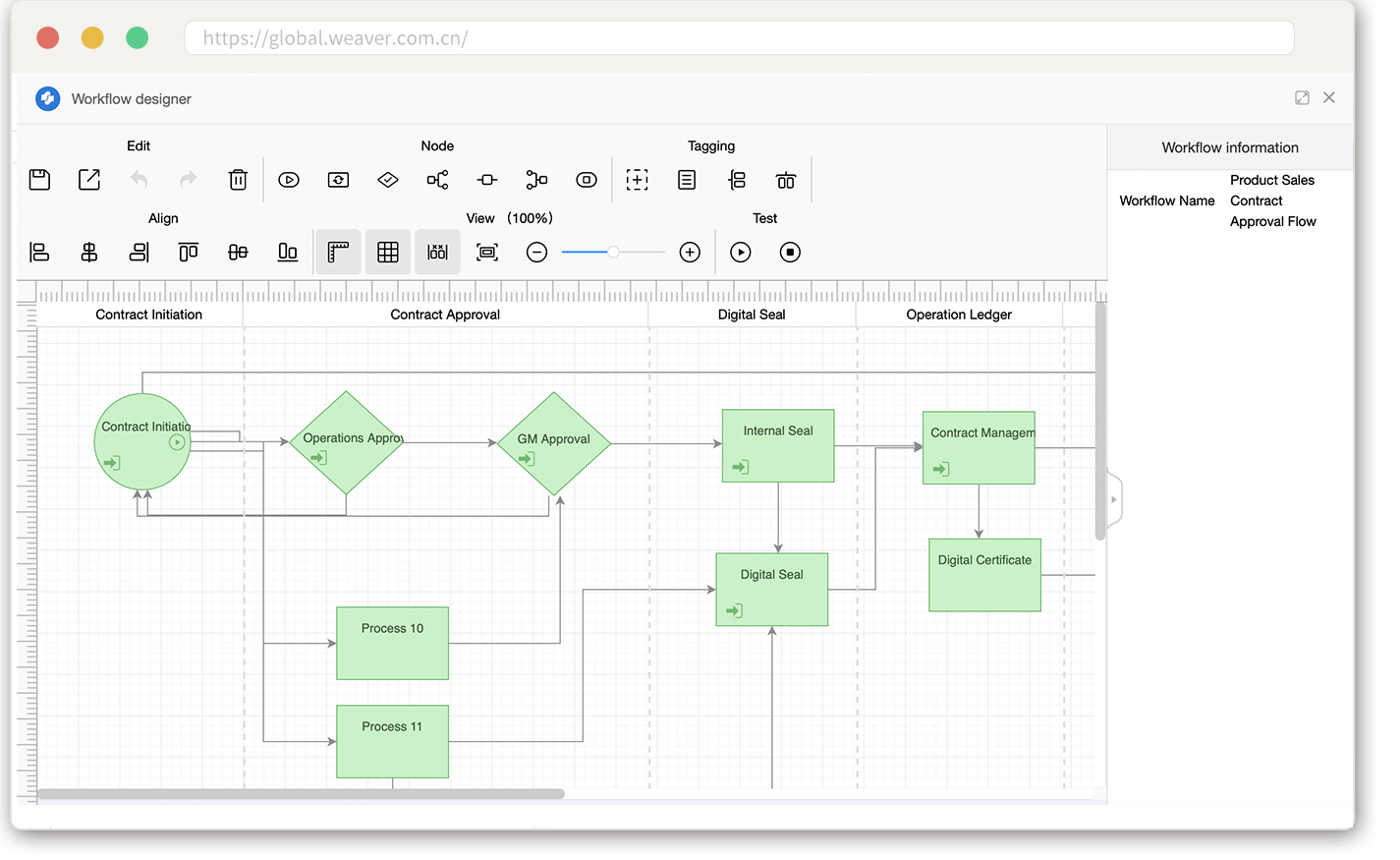 Flexible Configuration and Multi-system Integration
Weaver workflow engine platform enables to flexibly customize sheets that allow you to quickly configure various workflows to improve implementation efficiency and reduce development costs. With powerful workflow modeling and multi-system integration capability, it can integrate other heterogeneous systems of enterprise and construct real-time workflow management platform when it satisfies the needs of business workflow automation management.
Weaver workflow engine platform enables flexible customization of forms and free configuration of work processes. It improves implementation efficiency and reduces development cost. It's able to integrate with heterogeneous systems with its powerful process modeling and integration capability. It not only enables business processes automation but also establishes process control platforms for different governance models.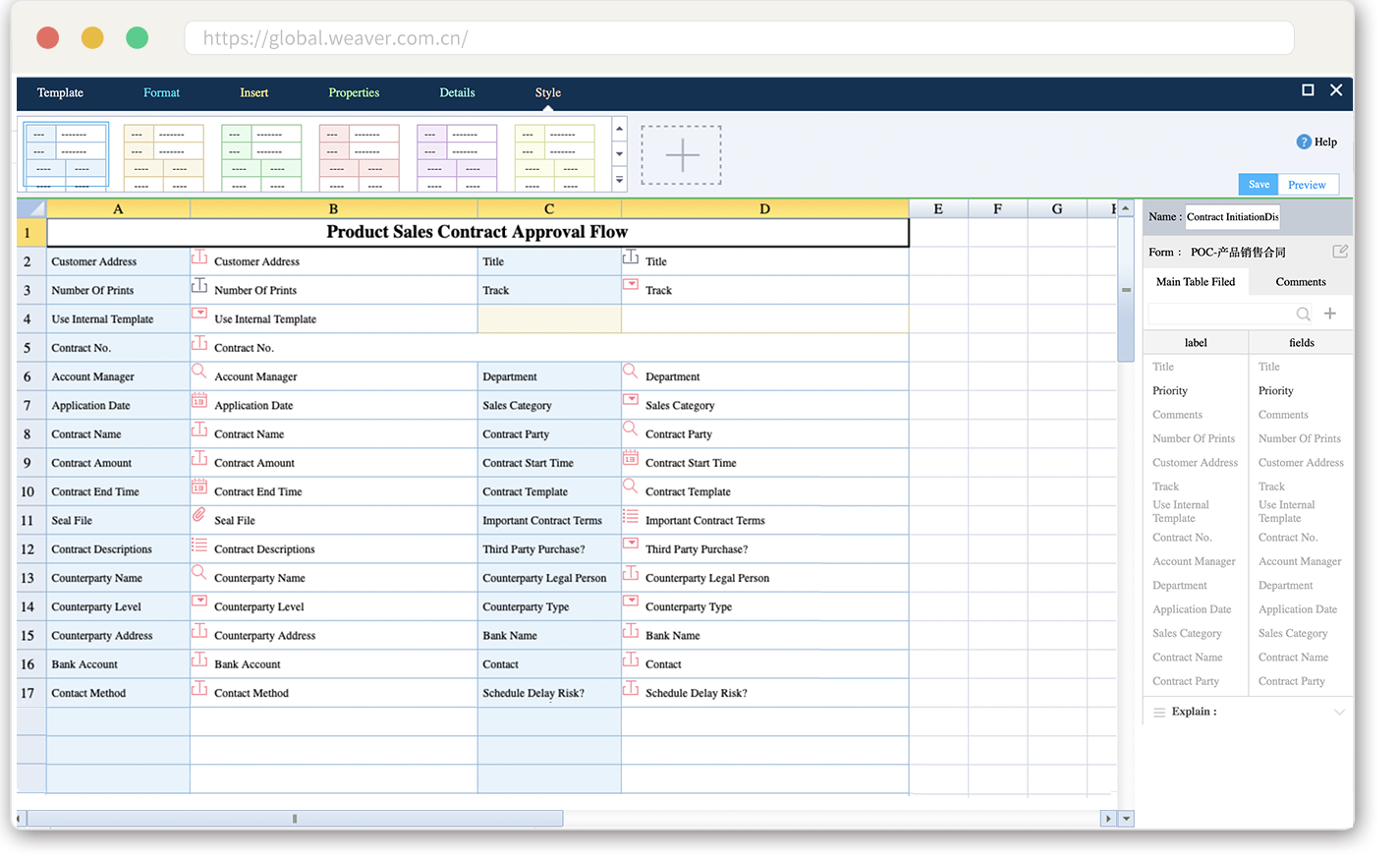 Technical Features of Workflow Engine Platform
Technical Features of Workflow Engine Platform
Java Technology

cross-platform design, high security and good performance

Compliant with WfMC Standard

Five standard interfaces enabling interaction with any other third-party workflow engines

Relational Database

Support mainstream database including SQL or ORACLE , enhancing data standardization and reprocessing

SOA

Achieve seamless integration and improve integration with heterogeneous systems

Graphical Workflow Modeling

Graphical, drag-and-drop, and visualized tools for workflow modeling , simulating workflows quickly and improving implementation efficiency
B/S Architecture

Entire browser application, zero client, and low maintenance cost

Flexible Deployment Architecture

Support centralized or distributed deployment, enhancing the overall user experience and system performance

Visualized Form Design

Create forms just like using Excel, increasing form design efficiency and reducing implementation cost

Support of Multi-middleware

Support RESIN, WEBLOGIC, WEBSPHERE and other WEB servers , quickly adapting to the existing deployment

Customization Tool for Forms

Customize various kinds of data reports based on workflows and businesses, monitoring efficiency of workflow and providing insights for decision making
Application Field of Workflow Engine Platform
Application Field of Workflow Engine Platform
It's widely used is various scenarios both for internal staff (decision maker/managerial level/execution level) and external partners (clients/suppliers/distributors). It truly helps improve operating efficiency and standardize the management.
HR Management
Job application
New employees on board training application
Regular employment application
Overtime application
Leave request
Internal transfer application
Separation application
Administration Management
Official document management
Asset management
Conference management
Vehicle management
Customer reception
Gift management
Business card application
License management
Finance Management
Business trip application/ expense reimbursement
Costs control and management
Budget management
Fixed asset management
Invoice management
Payment management
Capital management
Marketing Management
Master customer data management
Master product data management
Product promotion approval
Quotation management
Sales order management
Contract management
Marketing expense management
Information Management
IT helpdesk support
Network resource management
IT fault management
System account management
IT application development management
Procurement Management
Master supplier data management
Purchase request management
Supplier development and evaluation management
Purchase order management



Quality Management
User quality appeal
Corrective and preventive actions
Incoming quality control (IQC)
Defective goods dispose
Returns processing
Customer Service
Complaints & claim management
Customer technical support management
Customer service quality tracking management