Key Features of Mobile Officing Platform
Key Features of Mobile Officing Platform

Ease-of-Use
Support of screen touch, scrolling, zooming in/out and voice approval

Auto-adaptation
Support of a wide variety of intelligent devices including iPhone, iPad, Andriod, Andriod pad and Windows Mobile

Maturity
Cloud service with mature applications for organizations from different industries

Integration
Display of all applications on the smart phone which supports mobile office

Security
Adoption of hypertext transfer protocol, dynamic password, unified identity authentication and other security mechanisms

Platform
Providing of solutions covering application development, back-end integration, security control and operation management

Performance
Adoption of big data architecture following REST principle which supports big data access and processing

Easy Deployment
Easy deployment just by following business logic enabled by Weaver's unique mobile development engine

Once-and-for-all Deployment
Adaptable to other platforms enabled by industry leading hybrid mobile engine, also supporting independent plug-in
Technical Features of Mobile Officing Platform
Technical Features of Mobile Officing Platform
Hybrid Model

Cross-platform development and wonderful user experience

Mobile Modeling Tool

Support of design, configuration, deployment and maintenance

Interface and Connecting Adapter

Integration with external systems
Runtime-engine

Plug-in model and infrastructure architecture enabled by runtime-engine

Native Component

Native component through e-mobile and Wechat JS-SDK

Encryption

Security guarantee for mobile application enabled by interactive encryption
Modeling Engine of Mobile Officing Platform
Modeling Engine of Mobile Officing Platform
Mobile Modeling Engine
When e-mobile can't meet the customer requirements, organizations are able to build customized applications by use of e-mobile's modeling platform. The mobile modeling engine is featured with:

· Visualization design: support of user interface customization
· Mature application components: nine ready-to-use application components
· Graphical form designer: no coding needed for graphic design
· External data integration: integration of business form modeling and integration engine
· pen modeling platform: adaptable to different types of devices, typical of 'once-for-all' deployment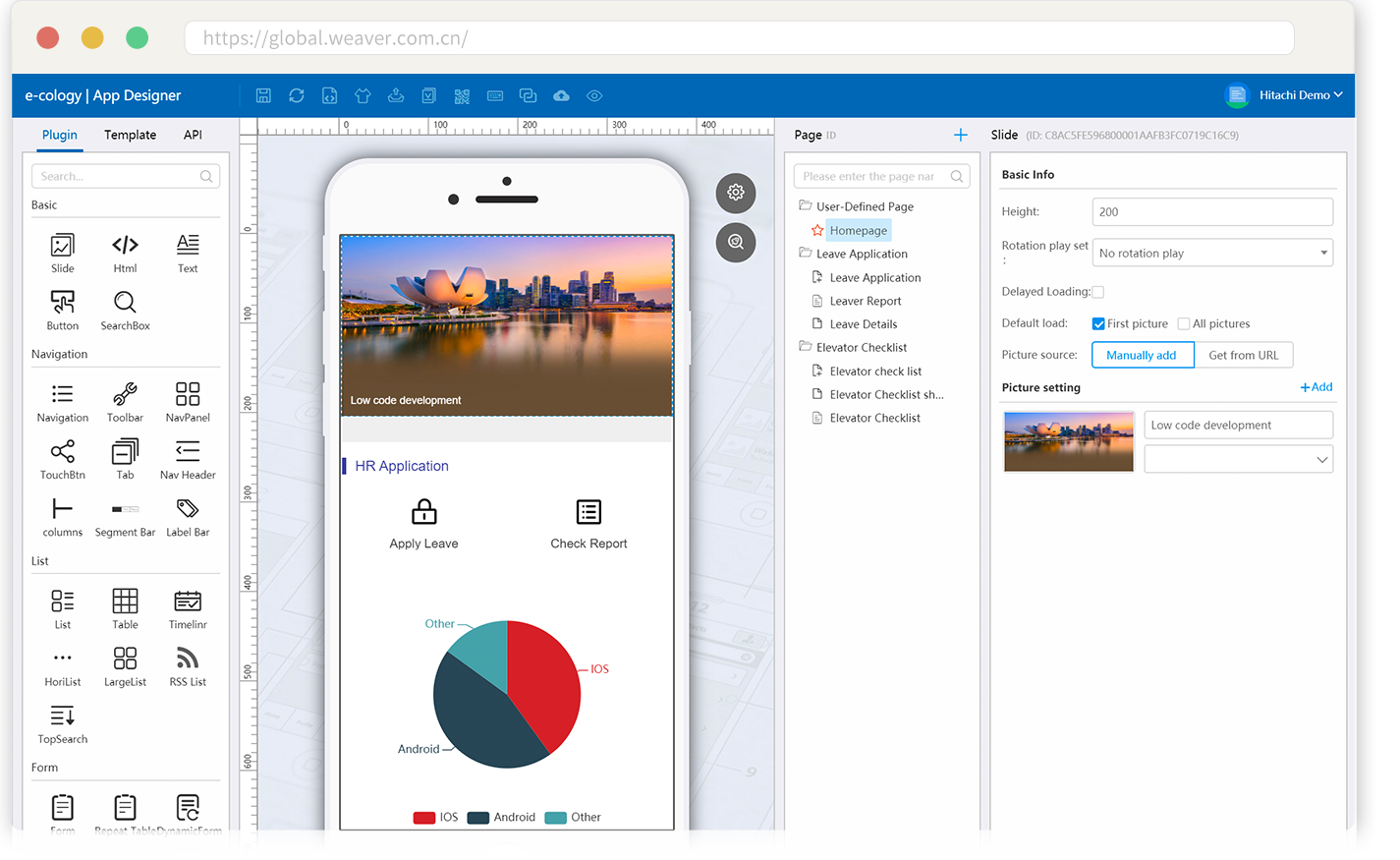 Applications of Mobile Officing Platform
Applications of Mobile Officing Platform
All-round Mobile Office
E-mobile supports instant work message reminding and quick retrieval of contact information. All office applications on the PC end can be used on the mobile phone, allowing employees to truly work from the mobile end.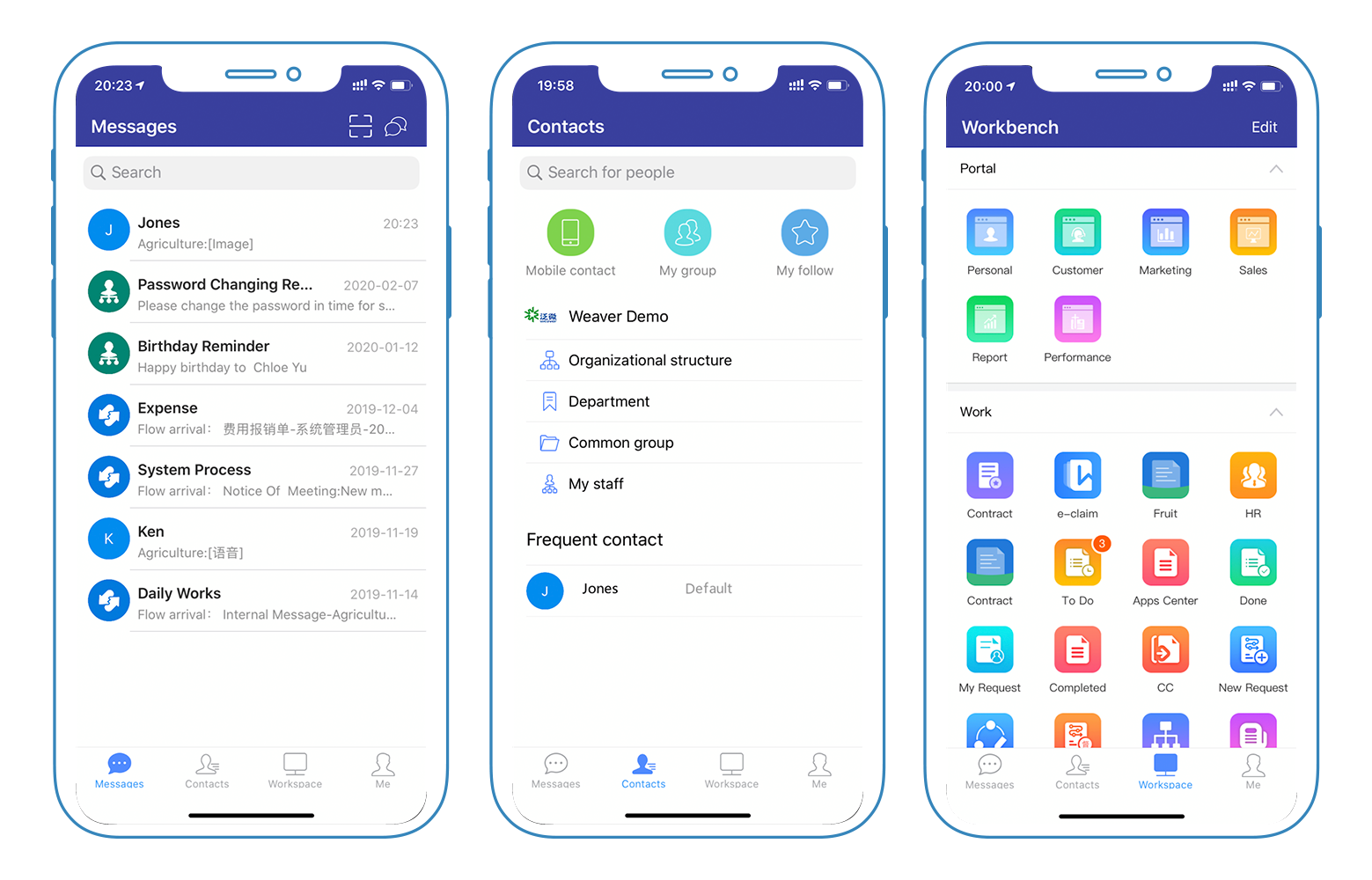 Enhance Collaboration
E-mobile helps employees to effectively communicate and collaborate, and establish an enterprise knowledge base. Workflow management function helps to standardize business approvals and the knowledge management function helps enterprise employees to precipitate information and to share knowledge.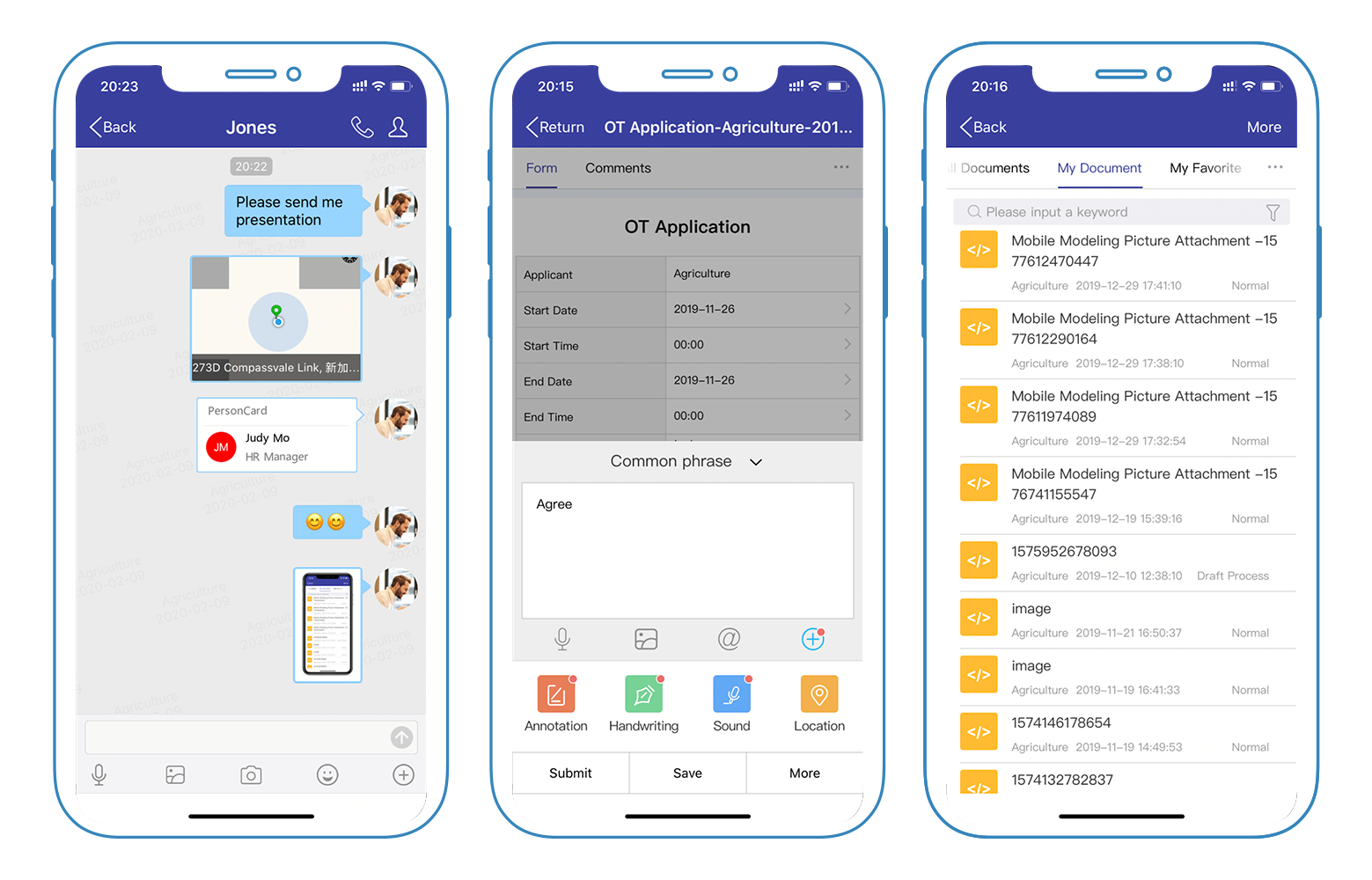 Other Applications of Mobile Officing Platform
Other Applications of Mobile Officing Platform